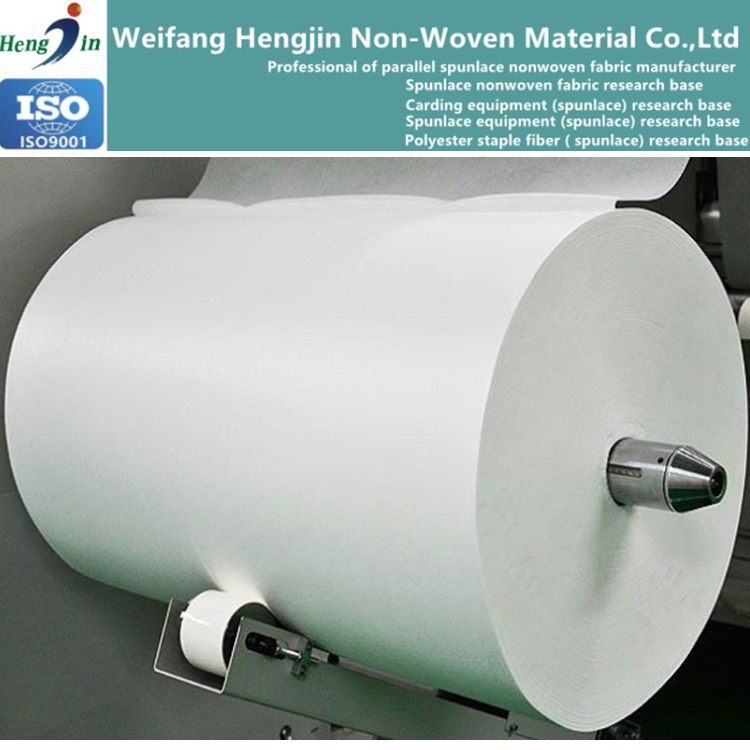 Parallel Viscose Spunlace
Spunlace non-woven fabrics are made under high-pressure fine water jets spraying onto one or more layers of fiber webs to entangle the fibers, so that the fiber webs can be reinforced and have a certain strength. The resulting fabric is a spunlace non-woven fabric. Its fiber raw materials have a wide range of sources, such as polyester, nylon, polypropylene, viscose fiber, chitin fiber, superfine fiber, tencel, silk, bamboo fiber, wood pulp fiber, seaweed fiber, etc.
Send Inquiry
Product Details
Parallel viscose spunlace is the most frequently used spunlace. It is widely used in premoistened wipes, disinfecting wipes, baby wipes, wet wipes. Our yearly output for parallel viscose spunlace is 26000 tons.
Parallel lapping spunlace will be cheaper than cross lapping ones. Its production efficiency will be much higher so the lead time shorter.
If you do not care too much on strength of fabric CD direction, you can choose parallel spunlace because it is about USD100 per ton cheaper than cross lapping one.
It is widely used in wet wipe production, such as disinfection wipes, baby wipes, face wipes, etc.
The ratio of viscose and polyester can be any from 0% to 100%, from 100% polyester to 100% viscose.
Features: absorbent, dustproof, anti-static, good strength, soft hand feel, good water-retaining properties;
Application: wet wipes, household wipes, general cleaning wipes, car wipes, disinfecting wipes, industrial wipes, etc.;
| | | | | |
| --- | --- | --- | --- | --- |
| Grammage range | Composition | Width range | Lapping | Surface |
| 30-90gsm | polyester/viscose | 12-225cm | parallel | plain/emboss/mesh |
Product Qualification:
We have SGS report for this product. Also, we have data sheet for each batch of our nonwoven fabric products. Defect inspecting system is installed for each of our production lines.
Our online-defects inspecting system will give alerts and marked for defects on fabrics, ensuring perfect quality of each yard of nonwovens.
Hot Tags: parallel viscose spunlace, China, manufacturers, factory, customized, wholesale, Bathing Wipes For Fitness, Spunlace, Disposable Wipe, Medical Grade Polyester Spunlace, Professional Disposable Germicidal Wipes, Wet Wipes
Inquiry