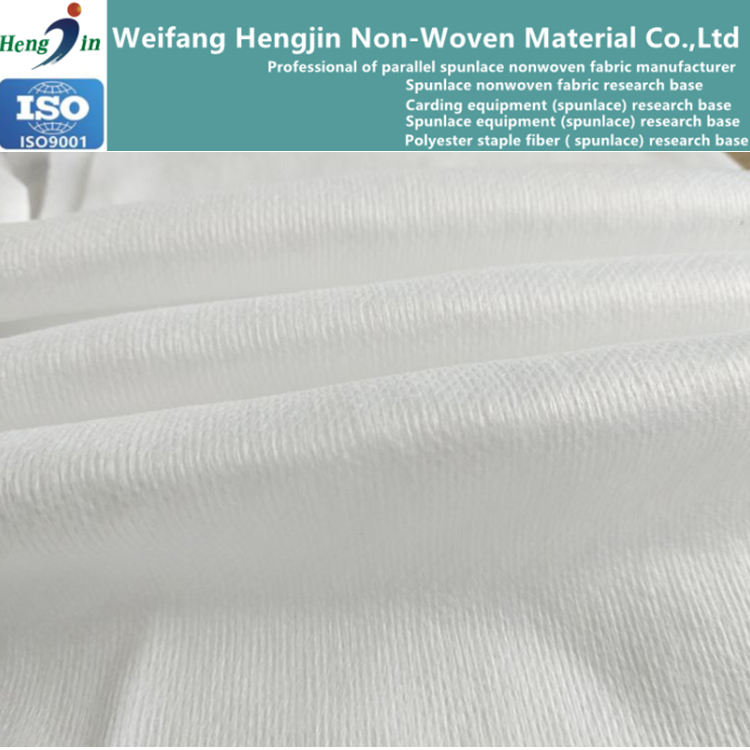 100% Polyester Spunlace For Wet Wipes
We produce 100% polyester spunlace for wet wipes.
After hydrophilic treatment, the 100% polyester spunlace absorbency is ok to make wet wipes so as to lower cost for wet wipe manufacturers.
The hydrophilizing agent we use is supplied by global big brand BASF, ensuring safety during daily cleaning, hand cleaning, or mouth cleaning.
Send Inquiry
Product Details
Application:
wet wipes, pet wipes, shoes wipes, disinfectant wipes, dry static floor wipes, hair and dust wipes.
| | | | | |
| --- | --- | --- | --- | --- |
| Grammage Range | Composition | Width Range | Lapping | Surface |
| 25-90gsm | 100% polyester | 12-225cm | parallel | plain/22mesh/pearl (dot)emboss/EF emboss/hexagon emboss |
Product Qualification:
We have SGS report for this product. Also, we have data sheet for each batch of our nonwoven fabric products. Defect inspect system is installed for each of our production lines.
Our online-defects inspecting system will give alerts and marked for defects on fabrics, ensuring perfect quality of each yard of nonwovens.
Producing, Loading, Shipping And After-Sale Service:
Lead time: 5-7 days after received deposit.
Loading quality: 4500kgs per 20′ GP container, 10200kgs per 40′ HQ container;
Q&A:
1. Is the hydrophilizing agent hazardous?
The hydrophilizing agent is supplied by BASF, a top 3 chemical agent supplier in the world. It is FDA certificated hydrophilizing agent, ensuring that it is safe to food.
2. Will it make price cheaper than viscose polyester fabric after hydrophilic treatment?
The hydrophilic treatment is about USD20.00 per ton of nonwovens. So, it is much cheaper than 10% viscose or 20% viscose. So, it saves money for wet wipe producers.
3. Why it is good as hair wipes or dust wipes?
Because 100% polyester spunlace is easy to be static. When you clean floor with our 100% polyester spunlace disposable mops, this dry mop of 100% polyester spunlace serving like an adsorption pump will draw dust or hair.
4. What is the minimum order quantity (MOQ) as the trial order?
We encourage our clients to try our products at low MOQ of 1000kgs.
5. What are the payment terms?
T/T, L/C. Hengjin are happy to support our clients to compete against their opponents in their local market with best quality, price and services.
Hot Tags: 100% polyester spunlace for wet wipes, China, manufacturers, factory, customized, wholesale, Gauze Roll, 100% Polyester Spunlace For Wet Wipes, Kitchen Wipes Non Woven Fabric, 10 Mesh Viscose Spunlace, Bamboo Organic Baby Wipes, Spunlace Sterile Gauze Roll
Inquiry